Livestock Feed On Offer Assessment Guide
This farmer group driven resource was produced to help farmers in the low rainfall mixed farming areas assess their feedbase to improve their feed budgeting skills and nutrition of ewes. It includes pictures of a range of crop/pasture types (including cereals; vetch; medics and crop stubbles) with measured FOO and feed quality. It was funded from National Landcare Programme, Sustainable Agriculture Small Grants. Testing and sampling was completed by Warracknabeal BestWool/BestLamb Group and Yarrilinks Landcare with consultancy and testing conducted by Steve Cotton, Dynamic Ag.
https://www.feedinglivestock.vic.gov.au/wp-content/uploads/2019/07/0269-Best-wool-best-lamb-FOO-booklet-v7.pdf
Feed on Offer (FOO)
An image library to assist in estimating the amount of pasture feed on offer (FOO)
www.feedonofferlibrary.com (opens in new window)
---
Pasture Growth rates (Source Prograze manual) – a guide only as these will vary considerably with pasture species, soil type, moisture, climate and management.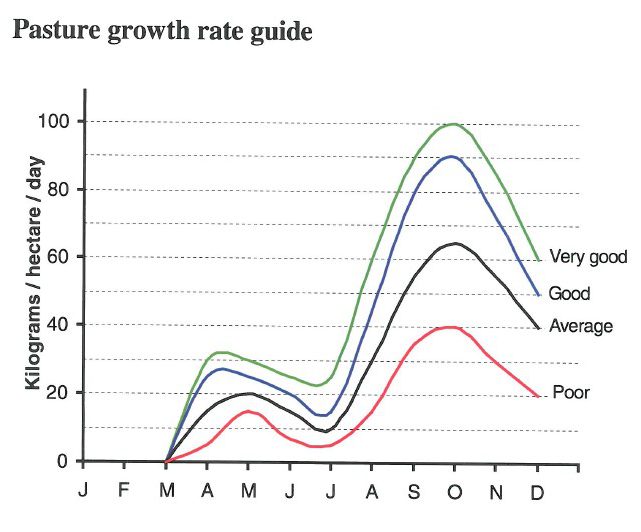 ---
Mixed Pastures – guide to quality (Source EverGraze)
https://www.evergraze.com.au/library-content/regional-pasture-growth-rates/ (opens in new window)
---
Pasture Quality for mixed swards
Quality Descriptions
Digest Green (%)
Digest Dead (%)
Legume (%)
Dead (%)
Characteristics
Very High
75%
45%
60%
10%
Consists of high proportion of legumes such as sub-clover, white clover, medics or lucerne.
Grass pasture species that present are generally highly digestible perennials.
There is a very low proportion of low digestibility annuals and 'dead' pasture within sward.
High
75%
45%
30%
10%
Comprised of highly digestible perennial grass species such as ryegrass, phalaris or fescue.
Have a reasonable proportion of clover present (around 30%).
Very low amounts of 'dead' plant material in the pasture sward
Medium
70%
45%
15%
20%
Typically consists of a mix of highly digestible perennial grasses and moderate to low digestibility annual grass species.
The legume content of pasture species within the sward is typically low at 15%. The mount of 'dead' plant herbage generally around 20%.
Low
65%
45%
5% or less
Up to 50%
Typically has large proportion of low digestibility species (e.g. Onion grass, silver grass).
May contain a proportion of moderate digestibility species (e.g. Cocksfoot, barley grass).
Very low clover content.
May also have high levels of dead plant material in sward.