Pasture growth predictions for this spring are modelled and produced by Brendan Cullen, Senior Researcher grazing systems at Melbourne University, using soil moisture probe information at the specified sites. This is part of an Enhanced Producer Demonstration Site (funded by Agriculture Victoria and Meat and Livestock Australia) at sites with soil moisture probes. These are in central Victoria (Baynton) and in south west Victoria (Harrow; Coojar and Dartmoor). Pasture cuts to validate the data are being collected where possible.

To access all soil moisture probe real time data (and other pasture sites) go to: https://extensionaus.com.au/soilmoisturemonitoring/category/resources/meatwool/
Pasture growth predictions – 1 October 2021
Brendan Cullen, University of Melbourne, 4 October 2021
Pasture growth rate predictions from 8 November – 31 December 2021 were modelled at four sites: Baynton (gravel soil type), Pigeon Ponds, Coojar and Dartmoor.
Initial soil water content was obtained from the Ag Vic soil moisture probe network in late September 2021. The soil water content was drier in the top 40 cm compared to early October when the profile was full. On 8 November 2021, soil water content was approximately 50% on capacity at Baynton, 30% at Pigeon Ponds, 70% at Dartmoor and 65% at Coojar.
Pasture growth rates predicted using SGS pasture model (same protocol as 2020) – weekly growth rates October to end of December. Predictions are done in two ways:
Soil water content only.
Soil water content plus seasonal forecast. BoM spring seasonal forecast show 75 % chance of above medium rainfall at Baynton and 65% at Pigeon Ponds, Coojar and Dartmoor as per Figure 1.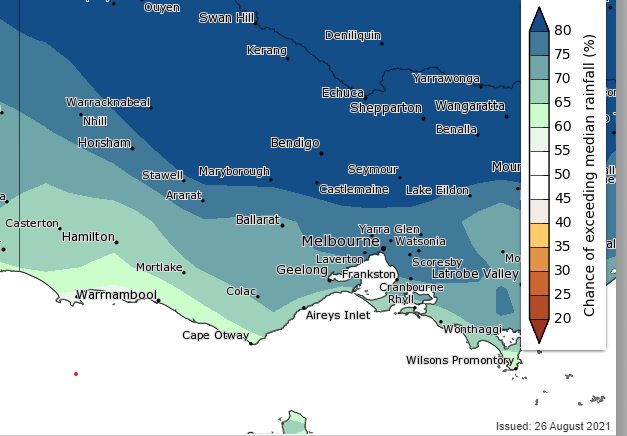 Baynton granite
Prediction based on Soil water only shows a slightly extended (1-2 weeks) growing season in November and higher growth rates throughout November compared to an 'average' year (Figure 2).  With the projection for higher chance of above median spring rainfall, the predicted growth rates in November are higher and the growing season is predicted to extend a little further into December (Figure 3).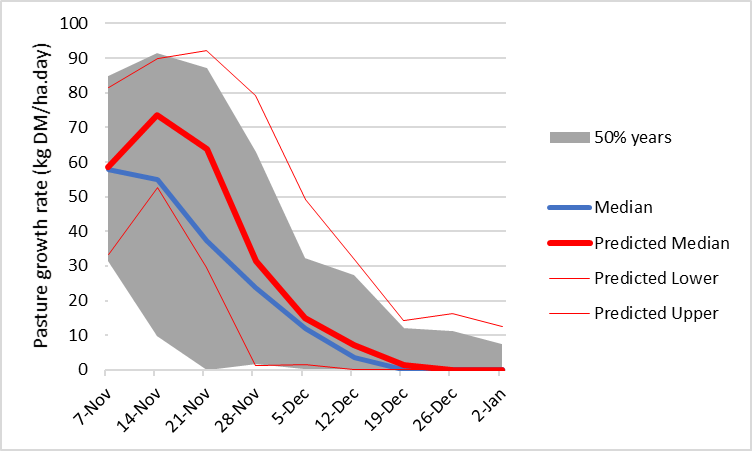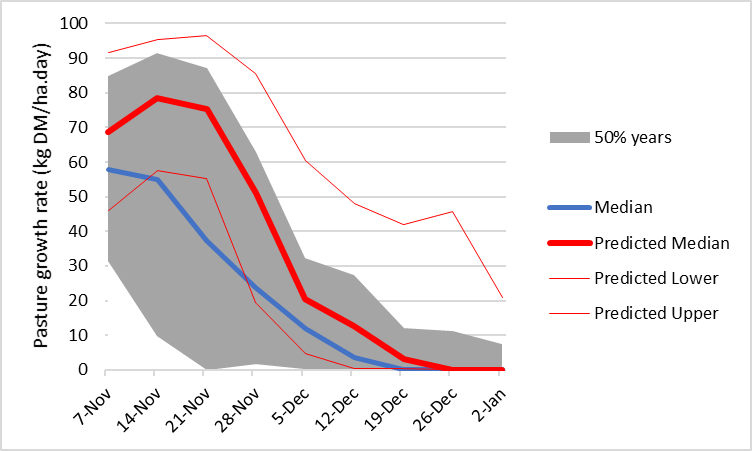 How did we go?
Figure four shows the predicted growth rates for the Baynton site and the measured or 'actual' growth rates (as measured under cages) for October on the granite and basalt soils. The granite soil type is showing it was close to the median and predicted median, whilst the basalt was behind, but still within the range.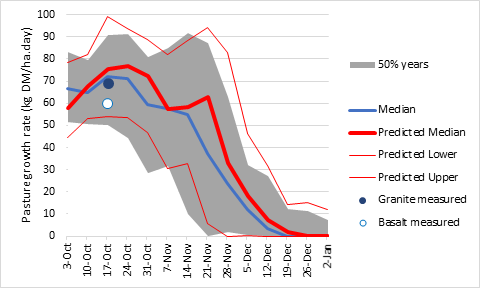 To access all soil moisture probe real time data (and other pasture sites) go to: https://extensionaus.com.au/soilmoisturemonitoring/category/resources/meatwool/